Remote authenticated access to Wiley publications such as e-books and e-journals has been interrupted. For assistance, please contact Distance Learning Services.
A map can be used for more than to determine where a person is, or wants to go. Studying a map tracks history, reveals changes in population and – of particular importance to a world grant university – supports research.
For many, the Map Library is an unexpected find at the MSU Main Library. Tucked away on the third floor of the West Wing, it features a collection of approximately 212,000 sheet maps and 4,000 atlases, gazetteers and reference aids, such as wall maps, globes, CDs and Internet-accessible resources.
While the MSU Libraries collect maps of the entire world, the strongest collections are of Michigan, the Great Lakes region, Latin America and Africa. Specialized collections include 19th to 21st century Michigan county atlases, Canadian topographic maps and Ethiopian maps. The worldwide sheet map collection includes maps from the 17th to 21st centuries.
Your gift will help the Map Library acquire antique and rare maps in its primary collection areas or purchase maps and atlases that serve scholarly research interests relating to the mission of the MSU Libraries. To make a contribution, you may donate online.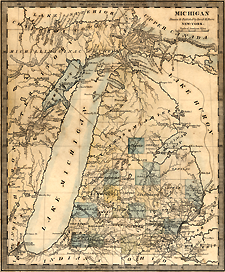 A map of the state of Michigan, circa 1831