Printing to E-token from Selected Resource Computers
Note: Color printing is not available from Selected Resource computers.


Ok, I'm ready to print my pages. What's next?
After you have sent your documents for printing, you will need to log in to the webprint system. Minimize your windows so that you can see this icon

on the desktop. Click on the icon to go to the webprint page.
When you first log in to webprint it will display your print jobs, including the file size and time submitted. By default it will select the printer it determines to be the closest to where you are printing.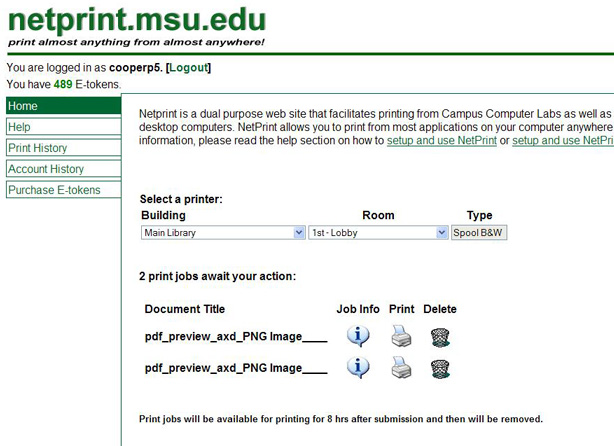 Which printer should I choose?
If it cannot locate a printer, webprint will give you the option to select a printer from a list. When you click on the pull-down menu, you will see a list of the available E-token printers in the library for printing.
Once the printer has been selected, you now have the option to print out the pages in the queue, remove the print job from the list, or refresh the page to display new print jobs that were recently added. You will also notice that WebPrint tracks the number of available E-tokens that you have for printing.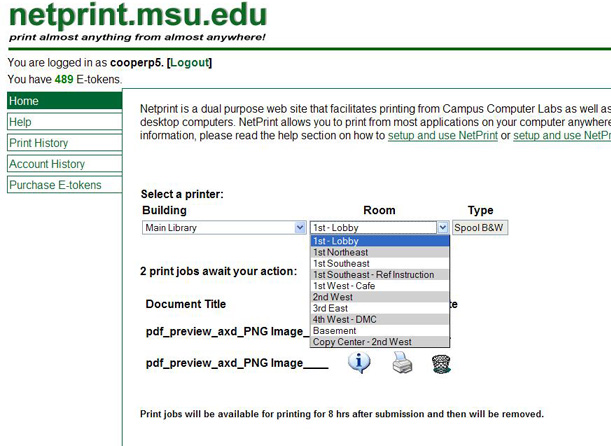 Hey, I don't have any E-tokens, what do I do?
In some cases, you may find that you don't have any E-tokens for printing. You may have never set up an account, or you have depleted your reserves.

Regardless of the reason, if you login and find that you are out of E-tokens, then webprint will display this condition and by default your print jobs will go to the Copy Center on 2-West in the Main Library.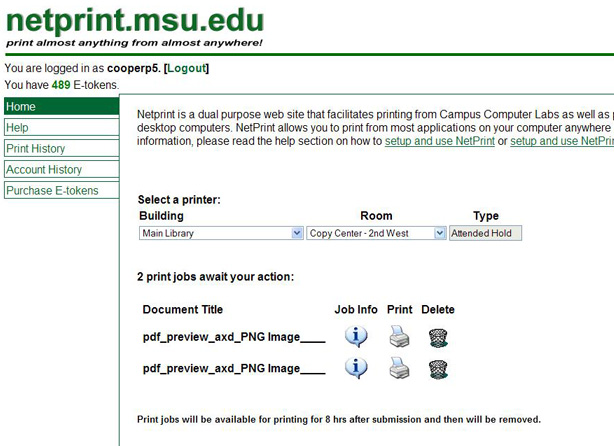 For more information: