Special Collections Hours
| | |
| --- | --- |
| Today (Mon.) | 9:00am to 5:00pm |
| Dec. 23rd (Tue.) | 9:00am to 5:00pm |
| Dec. 24th (Wed.) | 9:00am to 12:00pm |
Location
Special Collections
Main Library Building
Michigan State University
366 W. Circle Drive
East Lansing MI, 48824
Phone: (517) 884-6471
Special Collections
Special Collections was established in 1962 to hold, preserve, build, and make accessible rare materials and special collections in the MSU Libraries. All materials must be used in the Special Collections reading room to protect and preserve them for use today and in the future.
Special Collections
Library Catalog
Search Plus
Search articles, journals, books, media and more
Discover Special Collections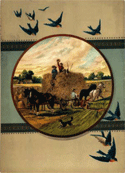 The
Agricultural Equipment Collection
which features 3500 agricultural machinery sales catalogs, promotional brochures, price lists, owner's manuals, and illustrated parts lists, provides an important illustrated panorama of the history of agricultural machinery from the late nineteenth century through the 1930s- from the height of the steam engine to the development of the gasoline powered tractor. While the major emphasis lies in tractors and threshers, the entire range of farm equipment can be found in this collection representing some 150 different manufacturers and suppliers primarily based in the Midwest and Canada.