Access to Elsevier digital content will be unavailable on Saturday evening, August 1st, during a systems upgrade beginning at 6:00 PM Eastern Time and continuing for up to five (5) hours. Among materials affected are the following frequently-used resources: ScienceDirect, Scopus, Engineering Village, Mendeley, SciVal, Reaxys, and Embase.
Special Collections Hours
| | |
| --- | --- |
| Today (Fri.) | 9:00am to 5:00pm |
| Aug. 1st (Sat.) | Closed |
| Aug. 2nd (Sun.) | Closed |
| Aug. 3rd (Mon.) | 9:00am to 5:00pm |
| Aug. 4th (Tue.) | 9:00am to 5:00pm |
Location
Special Collections
Main Library Building
Michigan State University
366 W. Circle Drive
East Lansing MI, 48824
Phone: (517) 884-6471
spc@mail.lib.msu.edu
Special Collections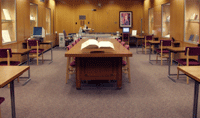 Special Collections was established in 1962 to hold, preserve, build, and make accessible rare materials and special collections in the MSU Libraries. All materials must be used in the Special Collections reading room to protect and preserve them for use today and in the future.
Special Collections
Library Catalog
Search Plus
Search articles, journals, books, media and more
Discover Special Collections