Special Collections Hours
| | |
| --- | --- |
| Nov. 30th (Sun.) | Closed |
| Dec. 1st (Mon.) | 9:00am to 5:00pm |
| Dec. 2nd (Tue.) | 9:00am to 5:00pm |
Location
Special Collections
Main Library Building
Michigan State University
366 W. Circle Drive
East Lansing MI, 48824
Phone: (517) 884-6471
Special Collections
Special Collections was established in 1962 to hold, preserve, build, and make accessible rare materials and special collections in the MSU Libraries. All materials must be used in the Special Collections reading room to protect and preserve them for use today and in the future.
Special Collections
Library Catalog
Search Plus
Search articles, journals, books, media and more
Discover Special Collections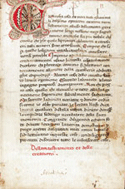 Written in Italian and consisting of 80 leaves,
this manuscript
on equine medicine is attributed to
Giordan Ruffo
, stable master at the Italian court of Frederick II (1194-1250), King of Sicily and the Holy Roman Empire. It is generally considered the starting point for the regeneration of western veterinary practice in the Renaissance. Ruffo's original work was widely copied over the next two centuries with at least 17 Latin, eight Italian, and three Sicilian versions identified, along with five in French and one each in Hebrew and German. Ruffo and his important work is sometimes confused with other early writers in the field, most notably
Laurentius Rusius
, a fourteenth century author and veterinarian, who incorporated whole sections of Ruffo's work into his own, usually without acknowledgement. Confusion is compounded by the fact that Ruffo's name has been spelled 10 different ways and Rusius' in more than twenty-five!