Special Collections Hours
Thursday (October 30): 9:00am to 5:00pm
Friday (October 31): 9:00am to 5:00pm
Saturday (November 1): Closed
Sunday (November 2): 1:00pm to 5:00pm
Monday (November 3): 9:00am to 5:00pm
Location
Special Collections
Main Library Building
Michigan State University
366 W. Circle Drive
East Lansing MI, 48824
Phone: (517) 884-6471
Special Collections
Special Collections was established in 1962 to hold, preserve, build, and make accessible rare materials and special collections in the MSU Libraries. All materials must be used in the Special Collections reading room to protect and preserve them for use today and in the future.
Special Collections
Library Catalog
Search Plus
Search articles, journals, books, media and more
Discover Special Collections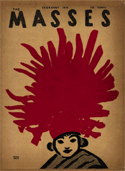 The Masses
(1911-1917) was a radical magazine founded in 1911 that reflected the changing relationship between art and politics in the early twentieth century, as did its successor
The Liberator
(1918-1924). After initial failure
The Masses
flourished under the guidance of Max Eastman and John Sloan as its art editor. Considered the greatest of the political, socialist, literary, and art magazines, it featured such writers as John Reed, Mary Heaton, Walter Lippman, and Art Young, along with artists George Bellows, George Winter, Stuart Davis, and Glen Coleman among others. Special Collections holds volume 4-10 of
The Masses
and complete holdings of
The Liberator
in the Radicalism Collection.