Special Collections Hours
| | |
| --- | --- |
| Today (Mon.) | 9:00am to 5:00pm |
| Jan. 27th (Tue.) | 9:00am to 5:00pm |
| Jan. 28th (Wed.) | 9:00am to 5:00pm |
| Jan. 29th (Thu.) | 9:00am to 5:00pm |
| Jan. 30th (Fri.) | 9:00am to 5:00pm |
Location
Special Collections
Main Library Building
Michigan State University
366 W. Circle Drive
East Lansing MI, 48824
Phone: (517) 884-6471
Special Collections
Special Collections was established in 1962 to hold, preserve, build, and make accessible rare materials and special collections in the MSU Libraries. All materials must be used in the Special Collections reading room to protect and preserve them for use today and in the future.
Special Collections
Library Catalog
Search Plus
Search articles, journals, books, media and more
Discover Special Collections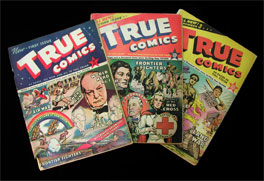 One specialty of the Michigan State University Libraries' Comic Art Collection is the non-fiction comics of the 1940s, and a complete run of True Comics is the centerpiece of this part of the collection. More information requests come to us through our online index to this title than from any other title in our collection.
True Comics was begun in 1941 to "counteract the wild, rowdy superhero comics," according to comics historian Ron Goulart (The Comic Book Reader's Companion, HarperPerennial, 1993). The editors were David Marke, a historian, and later Elliot Caplin, a prolific comics writer.
True Comics, it could be said, sparked a small genre of non-fiction newsstand comics. Real Heroes, from the same publisher, lasted 21 issues (1941-1946), and other publishers produced similar titles: Real Life Comics (1941-1952), and Real Fact Comics (1946-1949), for example. True Comics was the most successful, lasting until 1950 and producing 84 issues.