​ MeLCat Outage
Due to major system maintenance, you will not be able to request items through MeLCat beginning on November 18, 2015. Renewals for MeLCat items will still be possible until December 2, 2015. The system should be available for requesting again in early December. If you are MSU faculty, student or staff, please try Uborrow. Our community borrowers will not have access to interlibrary loan through MSU during that time. For more information, please read this MeLCat Server Migration FAQ. We apologize for the inconvenience.
Special Collections Hours
| | |
| --- | --- |
| Today (Tue.) | 9:00am to 5:00pm |
| Dec. 2nd (Wed.) | 9:00am to 5:00pm |
| Dec. 3rd (Thu.) | 9:00am to 5:00pm |
| Dec. 4th (Fri.) | 9:00am to 5:00pm |
| Dec. 5th (Sat.) | Closed |
Location
Special Collections
Main Library Building
Michigan State University
366 W. Circle Drive
East Lansing MI, 48824
Phone: (517) 884-6471
spc@mail.lib.msu.edu
Special Collections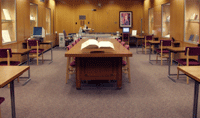 Special Collections was established in 1962 to hold, preserve, build, and make accessible rare materials and special collections in the MSU Libraries. All materials must be used in the Special Collections reading room to protect and preserve them for use today and in the future.
Special Collections
Library Catalog
Discover Special Collections