Special Collections Hours
| | |
| --- | --- |
| Today (Mon.) | 9:00am to 5:00pm |
| Nov. 25th (Tue.) | 9:00am to 5:00pm |
| Nov. 26th (Wed.) | 9:00am to 5:00pm |
Location
Special Collections
Main Library Building
Michigan State University
366 W. Circle Drive
East Lansing MI, 48824
Phone: (517) 884-6471
Special Collections
Special Collections was established in 1962 to hold, preserve, build, and make accessible rare materials and special collections in the MSU Libraries. All materials must be used in the Special Collections reading room to protect and preserve them for use today and in the future.
Special Collections
Library Catalog
Search Plus
Search articles, journals, books, media and more
Discover Special Collections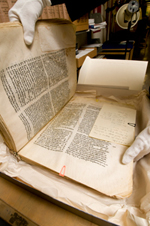 Sacred Samaritan Texts
From book to Web, some of the world's rarest religious documents will soon be available to anyone, anywhere, thanks to work provided by a Michigan State University research center.
Using a National Endowment for the Humanities grant, MSU's Writing in Digital Environments research center will digitize 20 pages from two of MSU Libraries' three Israelite Samaritan Pentateuchs, written more than 500 years ago in Egypt and Syria.
A Pentateuch, known to Jews as the Torah or the first of three sections of the Hebrew Bible, is also known to Christians as the first five books of the Old Testament.
Learn more at http://special.news.msu.edu/scrolls/