Special Collections Hours
Monday (April 21): 9:00am to 5:00pm
Tuesday (April 22): 9:00am to 5:00pm
Wednesday (April 23): 9:00am to 5:00pm
Thursday (April 24): 9:00am to 5:00pm
Friday (April 25): 9:00am to 5:00pm
Location
Special Collections
MSU Libraries
366 W. Circle Drive
East Lansing
MI, 48824
Phone: 517.884.6471
Special Collections
Special Collections was established in 1962 to hold, preserve, build, and make accessible rare materials and special collections in the MSU Libraries. All materials must be used in the Special Collections reading room to protect and preserve them for use today and in the future.
Discover Special Collections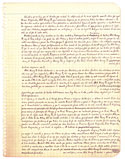 An extensive selection of writings by and about one of the world's most celebrated librarians is held in Special Collections. The librarian is
Jorge Luis Borges
, whose short stories, essays, and poetry influenced generations of writers and readers. The Borges collection, acquired in 1973, contains virtually all the first editions of Borges' works, including
Ficciones
(Buenos Aires, 1944), the MSU Libraries two millionth volume. The most recent addition to the collection is the manuscript of his celebrated 1950 essay,
La Muralla y Los Libros ("The Wall and the Books")
, which was a gift of Professor Donald Yates in 2003.