Special Collections Hours
Wednesday (October 1): 9:00am to 5:00pm
Thursday (October 2): 9:00am to 5:00pm
Friday (October 3): 9:00am to 5:00pm
Saturday (October 4): Closed
Sunday (October 5): 1:00pm to 5:00pm
Location
Special Collections
Main Library Building
Michigan State University
366 W. Circle Drive
East Lansing MI, 48824
Phone: (517) 884-6471
Special Collections
Special Collections was established in 1962 to hold, preserve, build, and make accessible rare materials and special collections in the MSU Libraries. All materials must be used in the Special Collections reading room to protect and preserve them for use today and in the future.
Search articles, journals, books, media and more
Discover Special Collections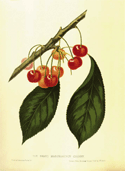 The Fruits of America
(Boston, [1847-]1852-1856), by Charles Mason Hovey is the most lavish ante-bellum work on the fruit trees of America and considered to be the first major work executed entirely in chromolithography (lithograph printed in at least three colors). The 96 varieties featured include 93 fruit trees (53 pear, 20 apple, 7 cherry, 7 plum, and 6 peach) and three strawberry varieties. In addition to Hovey's text, the plates were all executed by the Boston firm headed by William Sharp. Hovey was a highly regarded plant breeder and his orchard in Cambridge, Massachusetts boasted over 1,000 pear trees alone.
The Fruits of America
was intended to showcase what American pomologists had achieved, as well as to serve as an essential reference guide.