Special Collections Hours
Tuesday (July 29): 9:00am to 5:00pm
Wednesday (July 30): 9:00am to 5:00pm
Thursday (July 31): 9:00am to 5:00pm
Friday (August 1): 9:00am to 5:00pm
Saturday (August 2): Closed
Location
Special Collections
Main Library Building
Michigan State University
366 W. Circle Drive
East Lansing MI, 48824
Phone: (517) 884-6471
Special Collections
Special Collections was established in 1962 to hold, preserve, build, and make accessible rare materials and special collections in the MSU Libraries. All materials must be used in the Special Collections reading room to protect and preserve them for use today and in the future.
Discover Special Collections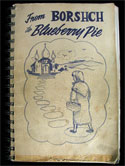 The Michigan Cookbook Project
is an initiative to collect cookbooks and food related materials published in Michigan or produced by Michigan communities, organizations, churches, or businesses. Since 1998, Special Collections has collected over 2,000 Michigan cookbooks with a number dating back to the late nineteenth and early twentieth century. The collection is especially rich in ethnic cookery which provides a unique glimpse of how new waves of immigants to Michigan contributed to the culinary heritage of the state. An example is
From Borsch to Blueberry Pie
(Detroit, 1970) presented by the Ladies Altar Guild of the Holy Ghost Russian Orthodox Church, Detroit, Michigan. Recipes include cheese paskha, kolochanka, Margaret's piroshki, and chocolate brownies a la mode.