Special Collections Hours
| | |
| --- | --- |
| Today (Mon.) | 9:00am to 5:00pm |
| Dec. 30th (Tue.) | 9:00am to 5:00pm |
| Dec. 31st (Wed.) | 9:00am to 5:00pm |
Location
Special Collections
Main Library Building
Michigan State University
366 W. Circle Drive
East Lansing MI, 48824
Phone: (517) 884-6471
Special Collections
Special Collections was established in 1962 to hold, preserve, build, and make accessible rare materials and special collections in the MSU Libraries. All materials must be used in the Special Collections reading room to protect and preserve them for use today and in the future.
Special Collections
Library Catalog
Search Plus
Search articles, journals, books, media and more
Discover Special Collections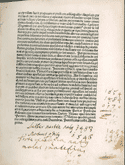 The primary focus on the
European Criminology Collection
is on German criminal law with a number of important texts on witchcraft from as early as the 15th century. One of these texts is the infamous,
Malleus Malificarium
, or "Hammer of Witches," which remained for many years the standard work on witches in Germany. Its authors were the first inquisitors of heresy and witchcraft for Germany, and they composed the work as a manual for ecclesiastical judges for persecuting witches. The book provides evidence for witchcraft, rules for its discovery, and proceedings for instituting punishment. Our copy is filled with marginalia, presumably in the hand of an inquisitor, including a note about birth and dates of Martin Luther.