Special Collections Hours
| | |
| --- | --- |
| Today (Fri.) | 9:00am to 5:00pm |
| Nov. 22nd (Sat.) | Closed |
| Nov. 23rd (Sun.) | 1:00pm to 5:00pm |
| Nov. 24th (Mon.) | 9:00am to 5:00pm |
| Nov. 25th (Tue.) | 9:00am to 5:00pm |
Location
Special Collections
Main Library Building
Michigan State University
366 W. Circle Drive
East Lansing MI, 48824
Phone: (517) 884-6471
Special Collections
Special Collections was established in 1962 to hold, preserve, build, and make accessible rare materials and special collections in the MSU Libraries. All materials must be used in the Special Collections reading room to protect and preserve them for use today and in the future.
Special Collections
Library Catalog
Search Plus
Search articles, journals, books, media and more
Discover Special Collections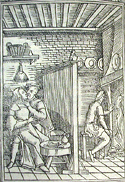 La pratique et enchiridion des causes criminelles
(Louvain, 1555), by Joost de Damhouder, is a rare edition of one of the sixteenth century's most popular works of criminology. It describes the various crimes in simple language, with a woodcut of the crime being committed, where this is possible pictorially. There are 56 full-page woodcuts, most of them within architectural or decorative borders. Details are also provided of the procedure in the arrest, torture, prosecution and execution of the criminal. Our copy in the European History Collection is beautifully bound in full red morocco with blind stamp borders on front and back covers.