Special Collections Hours
Friday (October 31): 9:00am to 5:00pm
Saturday (November 1): Closed
Sunday (November 2): 1:00pm to 5:00pm
Monday (November 3): 9:00am to 5:00pm
Tuesday (November 4): 9:00am to 5:00pm
Location
Special Collections
Main Library Building
Michigan State University
366 W. Circle Drive
East Lansing MI, 48824
Phone: (517) 884-6471
Special Collections
Special Collections was established in 1962 to hold, preserve, build, and make accessible rare materials and special collections in the MSU Libraries. All materials must be used in the Special Collections reading room to protect and preserve them for use today and in the future.
Special Collections
Library Catalog
Search Plus
Search articles, journals, books, media and more
Discover Special Collections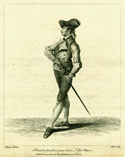 L'ecole des armes
(Londres, 1763) by Domenico Angelo was the most important and lavish fencing manual of its day. Besides text, it featured beautifully illustrated plates by English artists depicting fencers, including the author himself, in various important poses. The illustrations were later used unaltered in the illustrative section on "Escrime" in the great
Encyclopedie
(1765).
Born in Italy, Angelo achieved great fame in England as founder of the House of Angelo, a highly fashionable fencing school which included the patronage of the Prince of Wales. The first edition copy in Special collections is a gift of Charles Schmitter and is part of the renowned Charles and Ruth Schmitter Fencing Collection.