Special Collections Hours
Saturday (October 25): Closed
Sunday (October 26): 1:00pm to 5:00pm
Monday (October 27): 9:00am to 5:00pm
Tuesday (October 28): 9:00am to 5:00pm
Wednesday (October 29): 9:00am to 5:00pm
Location
Special Collections
Main Library Building
Michigan State University
366 W. Circle Drive
East Lansing MI, 48824
Phone: (517) 884-6471
Special Collections
Special Collections was established in 1962 to hold, preserve, build, and make accessible rare materials and special collections in the MSU Libraries. All materials must be used in the Special Collections reading room to protect and preserve them for use today and in the future.
Search articles, journals, books, media and more
Discover Special Collections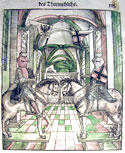 Georg Ruxner's,
Anfang, Upsprung und Herkommen des Thurniers inn Teutscher Nation
[Siemern, 1530], presents a historical sketch of tournaments held in Germany from the 10th century to the one held in Worms in 1487. The text provides information on the origin and ritual of the tournament, descriptions and lists of participants, while the 41 woodcuts give action pictures and scenes of the dances and festivities that were as essential a part as the fighting itself. There are also 246 cuts of the coats of arms of notable warriors. The contemporary roll-stamped pigskin binding has the arms of the city of Torgan.