Special Collections Hours
| | |
| --- | --- |
| Today (Sun.) | 1:00pm to 5:00pm |
| Nov. 24th (Mon.) | 9:00am to 5:00pm |
| Nov. 25th (Tue.) | 9:00am to 5:00pm |
| Nov. 26th (Wed.) | 9:00am to 5:00pm |
Location
Special Collections
Main Library Building
Michigan State University
366 W. Circle Drive
East Lansing MI, 48824
Phone: (517) 884-6471
Special Collections
Special Collections was established in 1962 to hold, preserve, build, and make accessible rare materials and special collections in the MSU Libraries. All materials must be used in the Special Collections reading room to protect and preserve them for use today and in the future.
Special Collections
Library Catalog
Search Plus
Search articles, journals, books, media and more
Discover Special Collections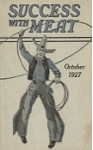 Little Cookbooks
contains thousands of food and cookery related publications produced primarily by companies in the United States from the late nineteenth century up to the present. The collection provides a rich resource to study the evolution and history of advertising, food products, individual companies, technology, food preparation, and food production. It was organized, described, and donated in 2005 by Shirley Brocker Sliker, who continues to add items to the collection. Efforts are now underway to describe and when possible digitize and create a fully searchable freely available online collection. Little Cookbooks is an ongoing project. New items from various companies are being scanned regularly. The images of these items are added to the site after quality assurance and copyright permission checks have been performed.