Special Collections Hours
| | |
| --- | --- |
| Today (Wed.) | 9:00am to 5:00pm |
| Jan. 29th (Thu.) | 9:00am to 5:00pm |
| Jan. 30th (Fri.) | 9:00am to 5:00pm |
| Jan. 31st (Sat.) | Closed |
| Feb. 1st (Sun.) | 1:00pm to 5:00pm |
Location
Special Collections
Main Library Building
Michigan State University
366 W. Circle Drive
East Lansing MI, 48824
Phone: (517) 884-6471
Special Collections
Special Collections was established in 1962 to hold, preserve, build, and make accessible rare materials and special collections in the MSU Libraries. All materials must be used in the Special Collections reading room to protect and preserve them for use today and in the future.
Special Collections
Library Catalog
Search Plus
Search articles, journals, books, media and more
Discover Special Collections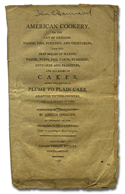 Prior to 1796 five cookery books, all reprints of popular British works, were published in this country. Then in 1796 in Hartford, Connecticut,
Amelia Simmons
published her
American Cookery
- the first true American cookbook. While some of her recipes were borrowed from English cookbooks, the originality of her work lies in her use of indigenous American produce like pumpkins and corn. The first known appearance of recipes for corn meal, Indian pudding, Johnny or hoe cakes, and Indian slapcakes are here. Special Collections holds one of four copies of the first edition, second printing of American Cookery (Northampton, 1798), which follows word for word the text of the first printing and is thought to be from the hands of the same printer. It was acquired with funds from the Beatrice V. Grant Endowment Fund for Rare Cookery Books.