Special Collections Hours
| | |
| --- | --- |
| Today (Wed.) | 9:00am to 5:00pm |
| Nov. 30th (Sun.) | Closed |
Location
Special Collections
Main Library Building
Michigan State University
366 W. Circle Drive
East Lansing MI, 48824
Phone: (517) 884-6471
Special Collections
Special Collections was established in 1962 to hold, preserve, build, and make accessible rare materials and special collections in the MSU Libraries. All materials must be used in the Special Collections reading room to protect and preserve them for use today and in the future.
Special Collections
Library Catalog
Search Plus
Search articles, journals, books, media and more
Discover Special Collections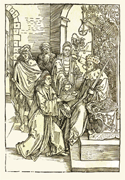 Opera Hrosvita, illustris virginis et moialis....nuper a Conrado Celte inventa
(Nuremberg, 1501), is the first edition of the "comedies" and other writings of Hroswitha of Gandersheim, who was a Benedictine nun in Lower Saxony born sometime between 912 and 940. Her work enjoys the distinction of being the first collection of modern or non-classical dramas to appear in print. Her manuscript was discovered and later edited for this first edition by the great German humanist Conrad Celtes. The book features 8 full page woodcuts, including two by Albrecht Durer. The one seen here represents Celtes presenting his book to the elector Frederick the Wise of Saxony.