On July 2nd, starting at 1 am, the Library's catalog will be undergoing a server migration, which will take approximately 6 hours. It will be down during that time. SearchPlus and MelCat will still be available to search MSU Libraries holdings. We are sorry for the inconvenience.
Radicalism Collection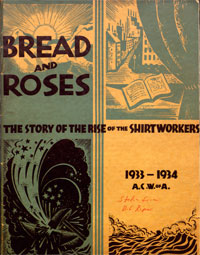 Bread and Roses:
The Story of the Rise of the Shirtworkers,
Two Eventful Years, 1933-1934
Amalgamated Clothing Workers of America (New York, 1935?)
The Radicalism Collection includes books, pamphlets, periodicals, posters, and ephemera covering a wide range of viewpoints on political, social, economic, and cultural issues and movements in the United States and throughout the world.
It is strongest in publications of the American left beginning in the 1960s. There are also notable collections of underground newspapers, Christian right publications, alternative periodicals, Communist Party of the United States, and a large clipping file collection.
The Radicalism Collection includes materials on the internment of Japanese Americans during World War II. Works on Asian immigration and Asian American life are also here, especially in the Nye Popular Culture Collection.
Learn more about this collection »
Online Resources