​ MeLCat Outage
Due to major system maintenance, you will not be able to request items through MeLCat beginning on November 18, 2015. Renewals for MeLCat items will still be possible until December 2, 2015. The system should be available for requesting again in early December. If you are MSU faculty, student or staff, please try Uborrow. Our community borrowers will not have access to interlibrary loan through MSU during that time. For more information, please read this MeLCat Server Migration FAQ. We apologize for the inconvenience.
Russel B. Nye Popular Culture Collection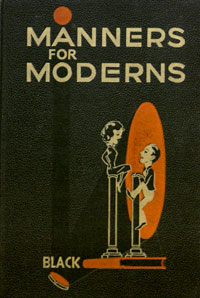 Manners for Moderns
by Kathleen Black
(Boston, 1938)
With over 300,000 items, the Nye Collection is a major scholarly resource for the study of popular culture from the Nineteenth Century to the present.
It is organized into categories of Comic Art, Science Fiction, Juvenile Literature, Mysteries, Popular Information, Romances, Textbooks, Westerns, Sunday School books and Performing Arts. While the emphasis for years was American popular culture, materials from other countries are now being collected as well. A large clipping file of articles from the popular press supports and complements the collection.
The Nye Popular Culture Collection has a large and rich collection of confession, teen, tabloid, men's, crime, entertainment, music, and scandal magazines covering a period primarily between 1930-1990.
Online Resources