​ MeLCat Outage
Due to major system maintenance, you will not be able to request items through MeLCat beginning on November 18, 2015. Renewals for MeLCat items will still be possible until December 2, 2015. The system should be available for requesting again in early December. If you are MSU faculty, student or staff, please try Uborrow. Our community borrowers will not have access to interlibrary loan through MSU during that time. For more information, please read this MeLCat Server Migration FAQ. We apologize for the inconvenience.
Literature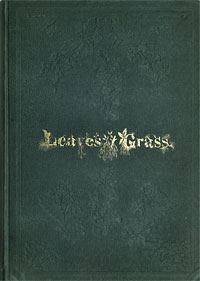 Leaves of Grass
Walt Whitman
(Brooklyn, 1855)
Researchers visiting Special Collections will find several large literary collections, in addition to a wide variety of first editions over the past five centuries. There are strong holdings in eighteenth century British literature with virtually all the editions and critical works on Shakespeare along with all the important men and women writers of the century. Works by such modern authors as Walt Whitman, Joseph Conrad, Edith Wharton, Sinclair Lewis, and Jorge Luis Borges are also here. American small press poetry of the 1960s-1970s is available, as well as the Michigan Writers Collection, which features the published works and many of the manuscripts of prominent writers with ties to the state.
Online Resources
The Michigan Writers Collection - Biographical and bibliographic information of some of the authors in the collection.
The Michigan Writers Series - This series features individual Michigan writers for an evening of readings and discussion with their audience. With the writer's permission, the reading, discussion, and a short interview is taped and made available online.