Starting Monday, August 28, please visit us in our new space on the first floor of the Main Library, just inside the main entrance.
Lesbian, Bisexual, Gay, and Transgender Collection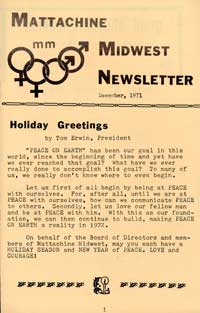 Mattachine Midwest Newsletter
December 1971
The LBGTQ Collection was one of the first of its kind in the world when it was established in the late 1970s. The collection offers rich holdings in a variety of formats featuring popular literature, periodicals, rare books, and archival collections. It is especially strong in the subjects of the Gay Liberation Movement, AIDS, gay and lesbian marriage and domestic partnerships, and homophobia. The holdings of over 800 serial titles represent magazines, entertainment guides, newspapers, newsletters, and pride guides from all areas of the United States and other countries. As a result of numerous donations the collection has thousands of gay and lesbian "pulp paperbacks" from the 1950s through the 1980s, in addition to more recent transvestite and transsexual literature. Historic pamphlets, leaflets, and manifestos represent the early gay and lesbian liberation movements.