On July 2nd, starting at 1 am, the Library's catalog will be undergoing a server migration, which will take approximately 6 hours. It will be down during that time. SearchPlus and MelCat will still be available to search MSU Libraries holdings. We are sorry for the inconvenience.
Lesbian, Bisexual, Gay, Transgendered, Queer Collection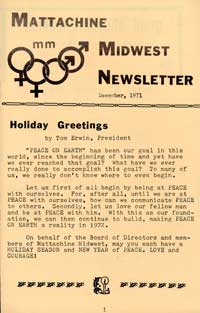 Mattachine Midwest Newsletter
December 1971
The LBGTQ Collection was one of the first of its kind in the world when it was established in the late 1970s. The collection offers rich holdings in a variety of formats featuring popular literature, periodicals, rare books, and archival collections. It is especially strong in the subjects of the Gay Liberation Movement, AIDS, gay and lesbian marriage and domestic partnerships, and homophobia. The holdings of over 800 serial titles represent magazines, entertainment guides, newspapers, newsletters, and pride guides from all areas of the United States and other countries. As a result of numerous donations the collection has thousands of gay and lesbian "pulp paperbacks" from the 1950s through the 1980s, in addition to more recent transvestite and transsexual literature. Historic pamphlets, leaflets, and manifestos represent the early gay and lesbian liberation movements.