​ MeLCat Outage
Due to major system maintenance, you will not be able to request items through MeLCat beginning on November 18, 2015. Renewals for MeLCat items will still be possible until December 2, 2015. The system should be available for requesting again in early December. If you are MSU faculty, student or staff, please try Uborrow. Our community borrowers will not have access to interlibrary loan through MSU during that time. For more information, please read this MeLCat Server Migration FAQ. We apologize for the inconvenience.
Charles & Ruth Schmitter Fencing Collection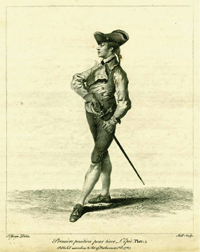 L'ecole des armes avec l'explication générale des principales attitudes et positions concernant l'escrime....
Domenico Angelo
(Londres, 1763)
Over the years the Special Collections Division in the MSU Libraries has been enriched by the generosity of friends and donors. One of the finest examples of this generosity is the Charles and Ruth Schmitter Fencing Collection, the gift of Charles Schmitter, MSU's retired fencing coach and professor emeritus of health and physical education, and Ruth, his wife. Now numbering almost 600 titles in thirteen languages spanning four centuries, this unique research collection rivals any in the country in size, quality, and breadth.