Please visit us in E102B, our temporary space on the first floor of the east wing. We will be moving into new permanent quarters near the main entrance later this summer.
Charles & Ruth Schmitter Fencing Collection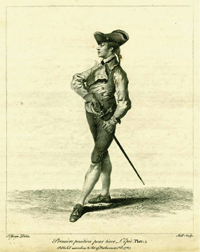 L'ecole des armes avec l'explication générale des principales attitudes et positions concernant l'escrime....
Domenico Angelo
(Londres, 1763)
Over the years the Special Collections Division in the MSU Libraries has been enriched by the generosity of friends and donors. One of the finest examples of this generosity is the Charles and Ruth Schmitter Fencing Collection, the gift of Charles Schmitter, MSU's retired fencing coach and professor emeritus of health and physical education, and Ruth, his wife. Now numbering almost 600 titles in thirteen languages spanning four centuries, this unique research collection rivals any in the country in size, quality, and breadth.