Please visit us in E102B, our temporary space on the first floor of the east wing. We will be moving into new permanent quarters near the main entrance later this summer.
European History & Culture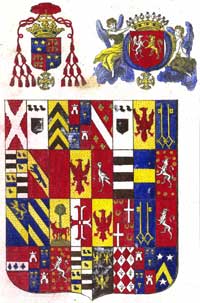 Nouvelle méthode raisonnée du blason ou de l'art héraldique....
Claude Francois Menestrier
(Lyon, 1770)
Researchers will find several outstanding collections in European history and culture. These include the 5,000 volume French Monarchy Collection, the Italian Risorgimento Collection of over 10,000 items, and a collection of over 1,500 manuscripts and printed works on European criminology from the sixteenth up through the nineteenth century. Finally, the eighteenth century British Studies collection is particularly strong in literature, natural history, discovery, and county histories.
As their class gift to Michigan State University, the Class of 1959 purchased and donated to the MSU Libraries The London Gazette from its first issue, November 14, 1665 to May 2, 1727, 6,600 issues in all. Held in bound volumes in Special Collections as part of the European History & Culture, the Gazette is considered the first newspaper in the world.