​ MeLCat Outage
Due to major system maintenance, you will not be able to request items through MeLCat beginning on November 18, 2015. Renewals for MeLCat items will still be possible until December 2, 2015. The system should be available for requesting again in early December. If you are MSU faculty, student or staff, please try Uborrow. Our community borrowers will not have access to interlibrary loan through MSU during that time. For more information, please read this MeLCat Server Migration FAQ. We apologize for the inconvenience.
Cookery & Food Collection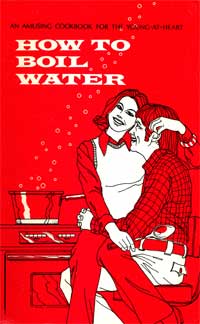 How to Boil Water; An Amusing Cookbook for the Young at Heart
Betty Jane Donahue
(Louisville, 1972).
Researchers will discover important and unique resources for the study of cookery and food. The collection features over 25,000 cookbooks and food related items from as early as the sixteenth century up to the present from all continents of the world.
Special collecting emphasis is on contemporary cookery of the Americas, including the United States; African American; Jewish American; Caribbean, Latin and South American; and the influence of West African food and diet on the Americas. The Michigan Cookbook Project is an attempt to collect all cookbooks published in the state. In addition to cookbooks there are strong resources in diet, health, and nutrition from the very old to the latest diet fad.
Learn more about this collection»