We are currently experiencing problems accessing our catalog, the vendor has been contacted make appropriate repairs.
On July 2nd, starting at 1 am, the Library's catalog will be undergoing a server migration, which will take approximately 6 hours. It will be down during that time. SearchPlus and MelCat will still be available to search MSU Libraries holdings. We are sorry for the inconvenience.
Comic Art Collection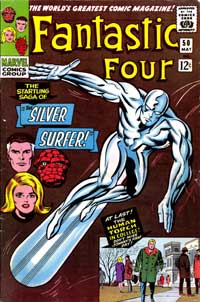 Fantastic Four
The Comic Art Collection holds over 200,000 items. Most of these items are American comic books, but also included are over 1,000 books of collected newspaper comic strips, nearly 45,000 foreign comic books, and several thousand books and periodicals about comics. Although some archival materials are held, the focus of the collection is on published work, in an effort to present a complete picture of what the American comics readership has seen, especially since the middle of the twentieth century.
Online Resources