Access to Elsevier digital content will be unavailable on Saturday evening, August 1st, during a systems upgrade beginning at 6:00 PM Eastern Time and continuing for up to five (5) hours. Among materials affected are the following frequently-used resources: ScienceDirect, Scopus, Engineering Village, Mendeley, SciVal, Reaxys, and Embase.
Changing Men Collection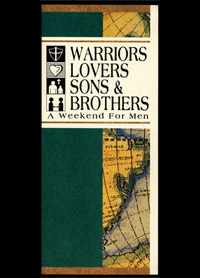 Warriors, Lovers, Sons, and Brothers; a Weekend for Men. [Flyer] The Baldwin Center for Psychological Services (Deerfield, Ill., 1997).
From an initial donation of material from the National Organization of Changing Men, this collection has grown to become the world's largest collection of materials documenting all activities and branches of the contemporary men's movement. This includes books, periodicals, vertical files, newsletters, pamphlets, and archival collections representing father's rights, National Organization for Men Against Sexism, mytho-poetic groups, and men's groups from around the world.
Online Resources