​ MeLCat Outage
Due to major system maintenance, you will not be able to request items through MeLCat beginning on November 18, 2015. Renewals for MeLCat items will still be possible until December 2, 2015. The system should be available for requesting again in early December. If you are MSU faculty, student or staff, please try Uborrow. Our community borrowers will not have access to interlibrary loan through MSU during that time. For more information, please read this MeLCat Server Migration FAQ. We apologize for the inconvenience.
Manuscripts & Archives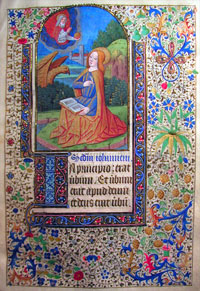 Horae Beatae Mariae Virginis (Paris, 148-?)
The manuscript and archival collections in Special Collections are here primarily in support of the printed collections. As a result, there are significant holdings of manuscript cookbooks, the literary papers of selected Michigan writers, early veterinary manuscripts, Africana materials, and the archives of progressive and radical political groups. There is also a growing archive documenting the history and culture of midwestern Latinos.
Online Resources