On July 2nd, starting at 1 am, the Library's catalog will be undergoing a server migration, which will take approximately 6 hours. It will be down during that time. SearchPlus and MelCat will still be available to search MSU Libraries holdings. We are sorry for the inconvenience.
Manuscripts & Archives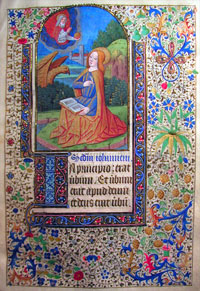 Horae Beatae Mariae Virginis (Paris, 148-?)
The manuscript and archival collections in Special Collections are here primarily in support of the printed collections. As a result, there are significant holdings of manuscript cookbooks, the literary papers of selected Michigan writers, early veterinary manuscripts, Africana materials, and the archives of progressive and radical political groups. There is also a growing archive documenting the history and culture of midwestern Latinos.
Online Resources