​ MeLCat Outage
Due to major system maintenance, you will not be able to request items through MeLCat beginning on November 18, 2015. Renewals for MeLCat items will still be possible until December 2, 2015. The system should be available for requesting again in early December. If you are MSU faculty, student or staff, please try Uborrow. Our community borrowers will not have access to interlibrary loan through MSU during that time. For more information, please read this MeLCat Server Migration FAQ. We apologize for the inconvenience.
Agriculture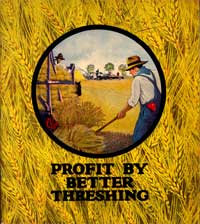 Case Steel Built Threshing Machines; Universal Favorites for Eighty Years J.I. Case Threshing Machine Company (Racine, 1922?)
As the library for the first institution of higher learning in the United States to teach scientific agriculture, Special Collections holds important early agricultural printed works, as well as strong collections in gardening, forestry, landscape architecture, and agricultural equipment catalogs.
Learn more about the collection »
Online Resources