Access to Elsevier digital content will be unavailable on Saturday evening, August 1st, during a systems upgrade beginning at 6:00 PM Eastern Time and continuing for up to five (5) hours. Among materials affected are the following frequently-used resources: ScienceDirect, Scopus, Engineering Village, Mendeley, SciVal, Reaxys, and Embase.
Agriculture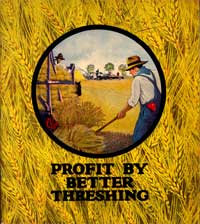 Case Steel Built Threshing Machines; Universal Favorites for Eighty Years J.I. Case Threshing Machine Company (Racine, 1922?)
As the library for the first institution of higher learning in the United States to teach scientific agriculture, Special Collections holds important early agricultural printed works, as well as strong collections in gardening, forestry, landscape architecture, and agricultural equipment catalogs.
Learn more about the collection »
Online Resources