On July 2nd, starting at 1 am, the Library's catalog will be undergoing a server migration, which will take approximately 6 hours. It will be down during that time. SearchPlus and MelCat will still be available to search MSU Libraries holdings. We are sorry for the inconvenience.
Agriculture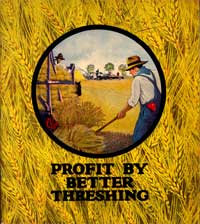 Case Steel Built Threshing Machines; Universal Favorites for Eighty Years J.I. Case Threshing Machine Company (Racine, 1922?)
As the library for the first institution of higher learning in the United States to teach scientific agriculture, Special Collections holds important early agricultural printed works, as well as strong collections in gardening, forestry, landscape architecture, and agricultural equipment catalogs.
Learn more about the collection »
Online Resources