Please visit us in E102B, our temporary space on the first floor of the east wing. We will be moving into new permanent quarters near the main entrance later this summer.
Agriculture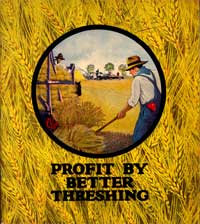 Case Steel Built Threshing Machines; Universal Favorites for Eighty Years J.I. Case Threshing Machine Company (Racine, 1922?)
As the library for the first institution of higher learning in the United States to teach scientific agriculture, Special Collections holds important early agricultural printed works, as well as strong collections in gardening, forestry, landscape architecture, and agricultural equipment catalogs.
Learn more about the collection »
Online Resources