Features

Early Mapping of the Great Lakes, 1656-1785
Main Library, 3rd Floor, West Wing
October through December, 2013
Maps of the Great Lakes made from the seventeenth century through the middle of the eighteenth century were almost entirely in French. This is because the French allied themselves with many Native American groups in order to gain access to the lucrative fur trade. As hunters decimated the North American fur-bearing animal population, they needed to move further and further west to find animals to trap.
This exhibit begins with a map that depicts only the eastern Great Lakes -- the extent of the lakes were not yet known by the French and so were left open-ended to a possible water route to the Pacific. You may view original antique maps that illustrate advances in European knowledge of Great Lakes geography through 1785 when the Great Lakes had become part of the new nation, The United States.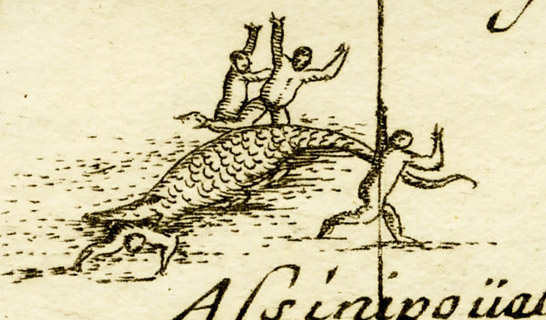 Coronelli's map of 1695 depicts alligators and palm trees throughout the Great Lakes region. This alligator found a snack northwest of Lake Superior.