Plotting FAQ
Frequently Asked Questions
What is a Plotter?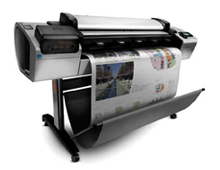 A plotter is a large format printer that produces both high quality prints in full color or black and white.
The Copy Center has two HP Designjet T2300 plotters and one Designjet T1200 plotter/large format scanner combination unit.
Who may use this service?
The plotting service is only available for MSU Students and Faculty/Staff. You must have a valid MSU NetID to log into computers that support the software needed to send a plot.
How much does it cost for a plot?
Full Color: $6.00 per linear foot
25% Color: $3.60 per linear foot
Line drawing or full Black & White: $1.80 per linear foot
Premium Paper is available for an additional $1.20 per linear foot.
What are the payment options?
Payment is made to the Copy Center cashier at the time of service.
Cash – Bills up to $50 accepted
Personal Check – ID required
Visa/Mastercard – ID required
University Departmental Account – Customer must fill out an account charge form which includes the departmental account number to be charged, department's name, address and phone number.
NOTE: We do not accept Sparty Cash. Plot service is only available to people with a valid MSU NetID. Guest use is not supported.
Will I be required to pay for a plot that I send incorrectly?
Due to the high cost of plotter ink, you will be required to pay for any plot you ask Copy Center staff to release from the print queue. You should use Print Preview in every application to be sure everything looks right before you send the plot to the print queue. You may watch the plot as it prints and if something is not as you had planned, have staff cancel it immediately. That will save some linear feet in your bad print payment.
What hours is the Plotter available?
The Main Library Plotter is available only when the Copy Center is open (which is an abundant number of hours). For current hours see: http://www.lib.msu.edu/general/library-hours-cal.jsp?unit_id=17
PLEASE NOTE: Due to the length of printing time, Copy Center staff are unable to release plots from the print queue within 15 minutes prior to closing time.
May I reserve time to use the plotter?
We have acquired an additional plotter with the goal of eliminating wait times for plotting. Even during the busiest times of the day and semester, our patrons typically don't have to wait (and if they do have to wait, the time is minimal). For this reason, it is no longer necessary to reserve plotting times.
What is the largest size I can plot (print)?
The plotter in the Library has 36 inch wide roll feed paper. Therefore your poster can be 36 inches by many feet longer or shorter.
This width limitation only limits how wide your plot can be, the length is infinitely variable up to about 100 feet. Let the Copy Center staff know if you plot will be longer than 5 feet as they may need to add more paper to the machine.
Is there more than one type of paper to print a plot?
Yes, there is a basic bright-white, flat finish paper and a premium paper with a semi-gloss coating to choose from. Please let the Copy Center staff know which you would like to use.
Is it possible to laminate my plot?
The library does not offer lamination for plots. You may check with off campus local printers.
How can I print something that is that much larger than the image on my monitor?
As part of Page Set Up, the file will be proportionally enlarged. Print Preview will be small enough for you to see (and you can use tools in the software to enlarge portions as needed for viewing), but it will print larger.
What are the most common uses for the plotter?
Many people use the plotter for printing large posters. (The largest you can print from Power Point is 36x56). It can also be used to enlarge a favorite photo (from electronic format) to poster size. It can also be used to print large AutoCad Drawings.
Where can I get help creating my poster?
Library Copy Center staff can help you with sending your poster to print, but staff members are not trained in the technology for the software packages. Software guides and manuals are available for checkout in the Digital and Multimedia Center (4 West). Technical assistance may be available in your department or from consultants at off campus local printers. Also see sample templates under: What software do I use to make a poster?
What software do I use to make a poster?
Powerpoint is one of the most common options for making posters. We have added some samples to this FAQ for your convenience.
Sample presentation templates
Created in PowerPoint, these templates are an easy way to make a poster. Each template is a single slide enlarged to poster size, either left blank for your content or with sample text boxes and charts into which you can insert information. Feel free to alter as desired.
To open a template in Internet Explorer or Mozilla Firefox, right-click your mouse button on the appropriate link below, select "Save Target As" or "Save Link As," and choose where you would like to save the PowerPoint presentation. Then, open PowerPoint and open the file you just saved. Information on saving files from library computers.
Can I make a large poster of a jpg picture?
You can send jpg files via applications such as Adobe Photoshop. Remember to conform to copyright guidelines when sending photos.
Can I plot a Word Document?
Microsoft Word maximum print size is 11x17. You could convert the Word Document into a PDF format and enlarge it to send to the Plotter in a PDF Reader. (Adobe Acrobat is currently the preferred reader for Plotter files). We suggest using Powerpoint to plot a file larger than 11 x17 inches.
How do I convert a file from Word to PDF for sending to the Plotter?
Go to File/Print and choose the PDF "printer" in the printer drop down menu. Send the document just as you would a print and save it. After you save it as a PDF file you may use the instructions for sending a plot from Adobe Reader to send the plot. This may sometimes cause a color variation. If this occurs, try the "Save As PDF..." function in Microsoft products to alleviate the issue.
Where may I Plot from?
Plots may be sent to the Main Library Plotter from all Full Application Computers on the 2nd Floor West Wing, the Collaborative Tech Labs and the Maps Library.
I have my file set up, but how do I send it from a computer?
For step by step information by application about printing set up, see:
Is it possible to send a plot from my wireless laptop?
No, the plotter is not a printing option through wireless and netprint. You may save your plot to a usb, log into a full application computer on 2 West or in the Map Library and send the plot. Or you may e-mail the plot file to yourself and access it from your e-mail at a full application computer on 2 West.
Do you have something I can use to carry my poster in after printing?
The Copy Center at the Main Library sells cardboard plot tubes for a minimal cost.
I have a question that is not addressed here, who may I contact?
Monday – Friday, 7:30am-4:30pm, you may contact:
Jill Thornton, Unit Head, Copy Center, 517.884.0843 or e-mail: thornton@msu.edu.
During other hours, you may contact:
the Copy Center Supervisor at 517.884.6386