​ MeLCat Outage
Due to major system maintenance, you will not be able to request items through MeLCat beginning on November 18, 2015. Renewals for MeLCat items will still be possible until December 2, 2015. The system should be available for requesting again in early December. If you are MSU faculty, student or staff, please try Uborrow. Our community borrowers will not have access to interlibrary loan through MSU during that time. For more information, please read this MeLCat Server Migration FAQ. We apologize for the inconvenience.
Florence G. Wallace Conservation Laboratory
Decades of wear and tear leave their mark on the historic volumes of the MSU Libraries. To ensure that print collections remain available for current and future generations of students, faculty members and researchers, an expert conservation staff uses the resources of the Florence G. Wallace Conservation Laboratory.
The conservation laboratory has workspace and specialized tools and equipment for everything from simple book repairs to sophisticated conservation techniques such as paper washing, custom cases, resewing and rebinding.
Conservation staff members serve as the MSU Libraries' experts on preventing damage to the collections from water, mold, insects and other environmental dangers.
To make a gift to support the preservation work of the MSU Libraries, please donate online.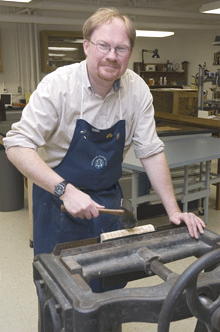 Eric Alstrom, head conservator, repairs a historic volume.