​ MeLCat Outage
Due to major system maintenance, you will not be able to request items through MeLCat beginning on November 18, 2015. Renewals for MeLCat items will still be possible until December 2, 2015. The system should be available for requesting again in early December. If you are MSU faculty, student or staff, please try Uborrow. Our community borrowers will not have access to interlibrary loan through MSU during that time. For more information, please read this MeLCat Server Migration FAQ. We apologize for the inconvenience.
The MSU Libraries' world-renowned Comic Art Collection includes more than 200,000 items that present a complete picture of what the American comics readership has seen since the middle of the 20th century.
Although a majority of the items are American comic books, the Comic Art Collection also includes over 1,000 books of collected newspaper comic strips, nearly 15,000 foreign comic books and several thousand reference books, journals, conference papers and dissertations on comic art.
The International Comics Collection opens a window to the comic scene in France, Denmark, Italy, Spain, Belgium, Germany, Sweden, the Netherlands, the United Kingdom, Japan, Korea, Canada and Mexico. Brazil, Argentina, and the Philippines are also represented and will be the focus for future collection development.
The American comics span a wide range of genres, from the widely read superhero and "funny animal" comics to historical adventures, biographies, political satire and even comics with a religious message.
Part of Special Collections, the Comic Art Collection receives careful handling, a chemically inert micro-environment, low light conditions and controlled humidity. To make a gift to support the Comic Art Collection, you may donate online.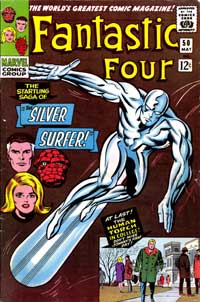 Cover of Fantastic Four #50, circa 1966