The Main Library will not open until 8:30 am on Friday, June 30 because we will be holding a secure-in-place drill.
Community Borrowers and Faculty Authorizations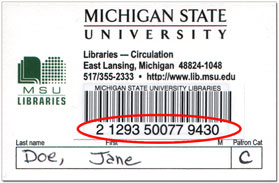 Community Borrowers:
Enter the barcode number from your MSU Library card and the password you typed into your account at the Patron Services Desk.
Faculty Authorizations:
Enter the barcode number from the Faculty Authorization card in both the barcode and password boxes.