Access to Elsevier digital content will be unavailable on Saturday evening, August 1st, during a systems upgrade beginning at 6:00 PM Eastern Time and continuing for up to five (5) hours. Among materials affected are the following frequently-used resources: ScienceDirect, Scopus, Engineering Village, Mendeley, SciVal, Reaxys, and Embase.
Community Borrowers and Faculty Authorizations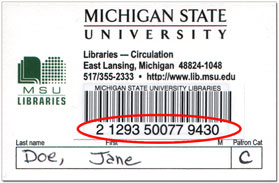 Community Borrowers:
Enter the barcode number from your MSU Library card and the password you typed into your account at the Circulation Desk.
Faculty Authorizations:
Enter the barcode number from the Faculty Authorization card in both the barcode and password boxes.