​ MeLCat Outage
Due to major system maintenance, you will not be able to request items through MeLCat beginning on November 18, 2015. Renewals for MeLCat items will still be possible until December 2, 2015. The system should be available for requesting again in early December. If you are MSU faculty, student or staff, please try Uborrow. Our community borrowers will not have access to interlibrary loan through MSU during that time. For more information, please read this MeLCat Server Migration FAQ. We apologize for the inconvenience.
Community Borrowers and Faculty Authorizations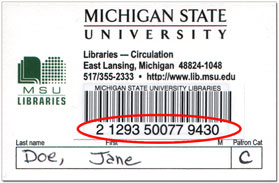 Community Borrowers:
Enter the barcode number from your MSU Library card and the password you typed into your account at the Circulation Desk.
Faculty Authorizations:
Enter the barcode number from the Faculty Authorization card in both the barcode and password boxes.