Remote authenticated access to Wiley publications such as e-books and e-journals has been interrupted. For assistance, please contact Distance Learning Services.
Community Borrowers and Faculty Authorizations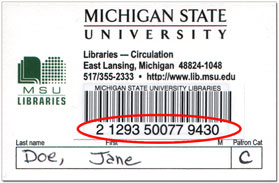 Community Borrowers:
Enter the barcode number from your MSU Library card and the password you typed into your account at the Circulation Desk.
Faculty Authorizations:
Enter the barcode number from the Faculty Authorization card in both the barcode and password boxes.