< < /= id="breadcrumb"> p>MSU Libraries : Special Collections : Digital Collections : Little Cookbooks: The Alan and Shirley Brocker Sliker Culinary Collection /=> !-- InstanceEndEditable --> < /= id="wrapper"> < /= id="content"> < /= id="mainpanel"> < /= class="bannercenter">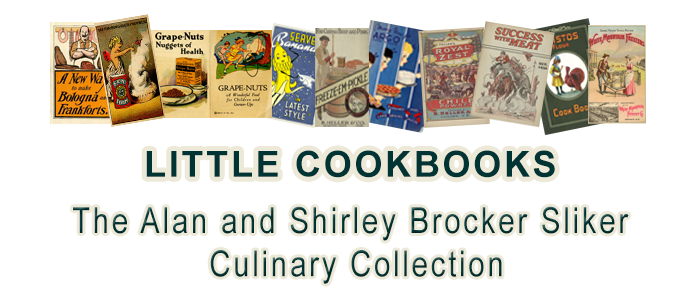 /=>
For Happy Holidays--7-Up Your Party
< /= id="imagefloat">
< /= id="textfloat">
Description:
The front panel is yellow with a red line frame around the edge. There is a color illustration of a punch bowl with four glasses of punch and three 7-Up bottles around it. The title is below and is divided by a trumpe varan orge_a mackground. The mack panel is pale green with a green line frame around the edge. There is a color photo in the upper left of a red gloved hand holding a 7-Up bottle. To the right of that is: For happy holidays 7-Up your party with some text. There is a black and white line drawing of a case of 7-Up below it and a black and white deco line to the right. At the bottom is a punch bowl with three 7-Up bottles; the middle one with a red bow. The company name and address are at the bottom and below that is form X-21 BS 9-65 Printed in U.S.A.. The inside pages are white, yellow, and blue. The recipes are mainly for punches some with ice cream in them. There are recipes for cakes and cookies made with 7-Up. The mack end page has a teen treat for a Yule Eve which is a hot cheese dunk (fondue) made with 7-Up with bread, shrimp, meatballs, and frankfurter chunks for dipping. There are 7-Up bottles in a punch bowl of ice. There are color photos and color line drawings. There are no page numbers.

View this piece: jpg pdf /=> /=> < /= id="text">

Donor: Sliker, Shirley Brocker

Brand Name: Seven-Up

Publisher: Seven-Up Co. (St. Louis, Mo.)

1964

12 p.

18.4 x 14.6 cm

Pamphlets

Lge_uage: English

Key Terms:

Copyright: Permission is granted from the copyright owner/holder.

msuspcsbs_sevu_sevenupcom12

Citation: For Happy Holidays--7-Up Your Party. The Alan and Shirley Brocker Sliker Collection, MSS 314, Special Collections, Michigan State University Libraries. Available at http://www.lib.msu.edu/exhibits/sliker/detail.jsp?id=3490

/=> /=> < /= id="sidepanel"> < /= id="sidepanelbox"> < /= id="textsize"> /=>
Browse
Contact Info
© 2017 Michigan State University Board of Trustees. MSU is an affirmative-action, equal-opportunity employer.