Jewish Families as International and Multilingual
Jewish communities can be found all over the world, and Jewish cultures are disparate and diverse: as Jews found homes in different parts of the world, they came to take on the local cultures, even as they held on to important aspects of Jewish culture.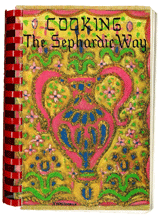 The majority of American Jews are Ashkenazic Jews, with an ethnic background from Eastern and Central Europe, but a distinct minority is Sephardic, with an ethnic background from the Iberian peninsula. Jews from North Africa, the Middle East, India, and other parts of Asia are also frequently referred to as Sephardic. Although all Jews share ancient Hebrew as the language of the Torah and of prayer, Ashkenazic Jews spoke the vernacular language of Yiddish, while Sephardic Jews spoke Ladino.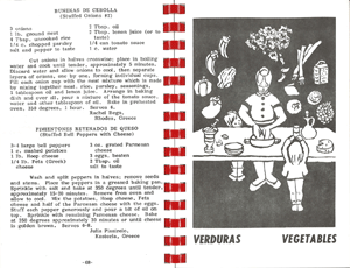 Two Greek stuffed vegetable recipes from Cooking the Sephardic Way. A mother and two small children are pictured preparing verduras/vegetables. Hebrew was revived in the modern era as a language for the emerging Jewish state that ultimately became Israel.
Stories about Jews in the United States have frequently addressed the multilingual and diverse nature of the world Jewish community.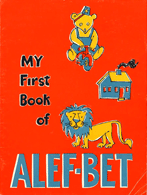 Children's books like My First Book of Alef-Bet (1961) taught children Hebrew and emphasized Jewish life in Israel, while cookbooks produced by manufacturers like Manischewitz (Tempting Kosher Dishes, 1930) were published in both Yiddish and English to attract Yiddish-speaking housewives. Other English-language cookbooks sprinkled Yiddish phrases throughout the text, like the Shaarey Zedek community cookbook Eat Hearty = Es Gesunderheit (1966). Jewish cookbooks have also highlighted the international dimensions of Jewish life. Greenbaum's Jewish Cook Book (1918), also called The International Jewish Cook Book, advertised "the favorite recipes from America, Austria, Germany, Russia, France, Poland, Roumania, etc., etc.", while newer cookbooks like Cooking the Sephardic Way (Los Angeles, 1971) and Jewish Cookery from Boston to Baghdad (1975) have placed Jewish diversity even more at the heart of their story of Jewish life.