Text A Librarian
NOTE: Effective July 1, 2013, the Text A Librarian service will be no longer be available. Please use another Ask A Librarian service to contact a librarian.
Use your cell phone to text a question to an MSU Librarian.
Just text 66746 and start your first message with the word askMSU.
Example: askMSU How do I find scholarly articles?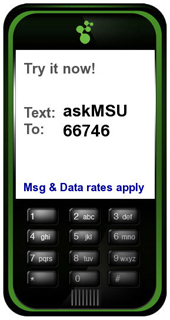 What kinds of questions should I ask using Text A Librarian?
Use Text A Librarian for simple, quick questions of up to 160 characters, that can be answered in 320 characters or less. Ask research questions requiring lengthy or detailed responses by using another Ask A Librarian option.
What kind of response will I get?
Questions sent during our current text service hours will receive a prompt response. Responses will come as two messages if they exceed 160 characters. Questions sent outside of service hours receive an automated response and will be answered the next service day.
How private and secure is the Text A Librarian service?
Our text service (Mosio) assigns a random User ID number to each patron. Your phone number is never visible and is not accessible to us at any time.
Will I be charged to use Text A Librarian?
Your cell phone provider's standard rates for text messaging and data usage will apply.
The confidentiality of library records in the state of Michigan is protected by "The Library Privacy Act," Michigan Compiled Laws 397.601-606, Act 455 of 1982. Note that federal law may supersede rights provided by this Michigan Law.