Using Computers in the MSU Libraries
The following are frequently asked questions about using computer in the MSU Libraries.
Does the library have computers that I can use?
Yes.
Selected Resources: Computers that provide access to the web version of the catalog and the E-Resources that the Libraries' subscribe to.
Full Set Of Applications: available with word processing and internet software. These machines also require authentication by the use of your valid MSUNet ID and password. Visit https://netprint.msu.edu/lab-use/ to find available computers across campus. Select "Library (Main)" to find an open computer in the Main Library.
Please ask at the Circulation Desk or Reference Desk for the location of these machines.
For more information on computer facilities in the Main Library, please see the supplemental list of Computer FAQs
What software programs are available on Full Application computers?
For information on what kinds of software programs are available on Full Application computers located in the Main Library or anywhere else on campus, see the Computer Labs page.
To find a Full Application or Selected Resource workstation check out the location of Micro Labs in the Main Library.
Can I save my files to the hard drive on a computer in the main library?
Network Drive Icons


Windows XP


Mac OS X
You can save files to the hard drive on a Full-Set of Application computer, but those file may be lost if the computer freezes, or if the system has to be restarted. Files can be saved to your personal AFS space using the network connection that is connected when you login to a Windows computer. On a Macintosh system you must click on the icon in the Dock to connect to your AFS space. You can save your files to removable media on any of the Full-Set of Application Windows & Macintosh workstations. The programs on the Selected Resource workstations can usually e-mail their results to a mail account, or save to a USB flash key or floppy disk.
You can also save files onto a CD/DVD, but you'll need to use the proper media and computer combination. Check out the Media Drive capabilities on the library's full set of application computers.
Where are the network connections for laptops in the main library building?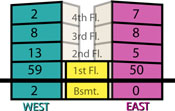 Within the Main Library there are more than 100 network connection ports between the east and west sides of the building. Look at empty study carrels for an outlet box with a bright orange plug or orange NET LINK sign. Ask at a service desk if you need help locating one.
Do any of the libraries on campus offer wireless network access?
The Main Library currently offers wireless network access to MSU students, staff, and faculty throughout the building. For information on how to use wireless in the library please go to the following page: Internet & Wireless
How do I print something at the main library?
Two print options (E-token and/or Copy Center Laser) are available in the Main Library. For information on how to print in the library please go to the following page: Print, Plot, & Scan