Novelist Amy Hassinger
February 6, 2004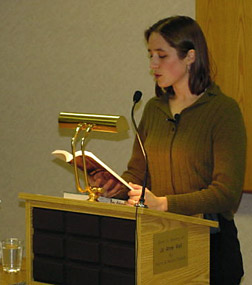 Audio:
Hassinger's debut novel, Nina: Adolescence (Putnam 2003) tells the story of the creative and sexual awakening of fifteen-year-old Nina Begley as she struggles to emerge from her family's grief after the loss of her little brother. Deemed "superb" by O, The Oprah Magazine and "truly penetrating" by Salon.com, Nina: Adolescence is also being translated into Dutch. It will be released in paperback in June. The audio recording of Nina: Adolescence received a Listen Up Award from Publisher's Weekly in January 2004.
Hassinger's work has also appeared in Blithe House Quarterly and MsFit Magazine, and her story "La Llorona" will be anthologized in Best Lesbian Love Stories 2004 (Alyson Publications). Her story "The Kiss" received the Peter S. Prescott Prize in 1994. Hassinger is a graduate of the Iowa Writers' Workshop, where she was awarded the Joseph E. and Ursil I. Callen Scholarship as well as a Teaching-Writing Fellowship.
A Massachusetts native, Hassinger now lives in Okemos with her husband and daughter and is at work on her second novel, which will also be published by Putnam.
"Very few writers are able to give the period of adolescence the wider resonance of serious adult literature. In Nina: Adolescence, Amy Hassinger does so brilliantly. This is an exciting debut by a splendid young writer." - novelist Robert Olen Butler