Writer Stuart Dybek
April 18, 2003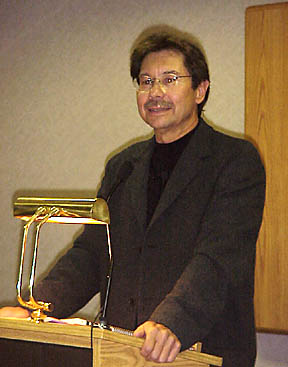 Audio:
Stuart Dybek is the author of two collections of short stories (The Coast of Chicago and Childhood and Other Neighborhoods) and a collection of poems (Brass Knuckles). A chapbook of short short fiction and prose poems, The Story of Mist (State Street Press) was published in 1993. His fiction, poetry, and nonfiction have been published in numerous magazines including The New Yorker, Atlantic, Harper's, DoubleTake, and Poetry. His work as also been translated into several languages, and is frequently anthologized. In Fall, 2003, Farrar, Straus, & Giroux will publish two new books: a novel in stories and a new collection of poetry.
He has received numerous awards, including: a 1998 Lannan Award; the 1995 PEN/Bernard Malamud Prize "for distinctive achievement in the short story;" an Academy Institute Award in Fiction from the American Academy of Arts and Letters in 1994; a Guggenheim Fellowship; two fellowships from the NEA; a residency at the Rockefeller Foundation's Bellagio Center; and a Whiting Writers Award. He has also received four O. Henry Prizes, including an O. Henry first prize for his story, "Hot Ice." Dybek's story, "Blight," was awarded the Nelson Algren Prize and his collection, Childhood and Other Neighborhoods, which was nominated for the National Book Critics' Circle Award, received the 1981 Prize for Fiction from the Society of Midland Authors and the Cliff Dwellers Award from the Friends of Literature.
Dybek earned an MFA from the University of Iowa and holds an MA in Literature from Loyola University in Chicago. Currently, he is a Professor of English at Western Michigan University and a member of the permanent faculty for the Prague Summer Writers Seminars. He is a contributing editor for several magazines and serves regularly as a judge for various literary awards.