​ MeLCat Outage
Due to major system maintenance, you will not be able to request items through MeLCat beginning on November 18, 2015. Renewals for MeLCat items will still be possible until December 2, 2015. The system should be available for requesting again in early December. If you are MSU faculty, student or staff, please try Uborrow. Our community borrowers will not have access to interlibrary loan through MSU during that time. For more information, please read this MeLCat Server Migration FAQ. We apologize for the inconvenience.
Digital Collections: Fencing

Title:
A treatise upon the useful science of defence : connecting the small and back-sword, and shewing the affinity between them : likewise endeavouring to weed the art of those superfluous, unmeaning practices which over-run it ... : with some observations upo
Publisher:
London: printed for the author by T. Gardner, 1747.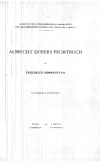 Title:
Albrecht Dürers Fechtbuch / von Friedrich Dörnhöffer
Publisher:
Wien: F. Tempsky ; Leipzig : G. Freytag, 1910.

Title:
The art of fencing : or, the use of the small sword / translated from the French of the late celebrated Monsieur L'Abbat
Publisher:
Dublin : printed by James Hoey, 1734.