Access to Elsevier digital content will be unavailable on Saturday evening, August 1st, during a systems upgrade beginning at 6:00 PM Eastern Time and continuing for up to five (5) hours. Among materials affected are the following frequently-used resources: ScienceDirect, Scopus, Engineering Village, Mendeley, SciVal, Reaxys, and Embase.
Digital Collections: Fencing

Title:
A treatise upon the useful science of defence : connecting the small and back-sword, and shewing the affinity between them : likewise endeavouring to weed the art of those superfluous, unmeaning practices which over-run it ... : with some observations upo
Publisher:
London: printed for the author by T. Gardner, 1747.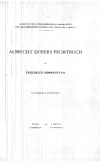 Title:
Albrecht Dürers Fechtbuch / von Friedrich Dörnhöffer
Publisher:
Wien: F. Tempsky ; Leipzig : G. Freytag, 1910.

Title:
The art of fencing : or, the use of the small sword / translated from the French of the late celebrated Monsieur L'Abbat
Publisher:
Dublin : printed by James Hoey, 1734.