Access to Elsevier digital content will be unavailable on Saturday evening, August 1st, during a systems upgrade beginning at 6:00 PM Eastern Time and continuing for up to five (5) hours. Among materials affected are the following frequently-used resources: ScienceDirect, Scopus, Engineering Village, Mendeley, SciVal, Reaxys, and Embase.
Digital Collections: Sesquicentennial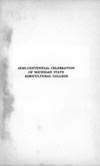 Title:
Semi-centennial celebration of Michigan State agricultural college, May twenty-sixth, twenty-ninth, thirtieth and thirty-first, nineteen hundred seven. Ed. by Thomas C. Blaisdell, PH.D. Published by the college.
Publisher:
Chicago. The University of Chicago press, 1908
Author:
Blaisdell, Thomas Charles. 1867-1948.