​ MeLCat Outage
Due to major system maintenance, you will not be able to request items through MeLCat beginning on November 18, 2015. Renewals for MeLCat items will still be possible until December 2, 2015. The system should be available for requesting again in early December. If you are MSU faculty, student or staff, please try Uborrow. Our community borrowers will not have access to interlibrary loan through MSU during that time. For more information, please read this MeLCat Server Migration FAQ. We apologize for the inconvenience.
Digital Collections: Sesquicentennial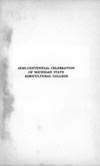 Title:
Semi-centennial celebration of Michigan State agricultural college, May twenty-sixth, twenty-ninth, thirtieth and thirty-first, nineteen hundred seven. Ed. by Thomas C. Blaisdell, PH.D. Published by the college.
Publisher:
Chicago. The University of Chicago press, 1908
Author:
Blaisdell, Thomas Charles. 1867-1948.