Remote authenticated access to Wiley publications such as e-books and e-journals has been interrupted. For assistance, please contact Distance Learning Services.
Digital Collections: Sesquicentennial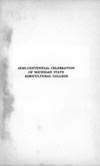 Title:
Semi-centennial celebration of Michigan State agricultural college, May twenty-sixth, twenty-ninth, thirtieth and thirty-first, nineteen hundred seven. Ed. by Thomas C. Blaisdell, PH.D. Published by the college.
Publisher:
Chicago. The University of Chicago press, 1908
Author:
Blaisdell, Thomas Charles. 1867-1948.