​ MeLCat Outage
Due to major system maintenance, you will not be able to request items through MeLCat beginning on November 18, 2015. Renewals for MeLCat items will still be possible until December 2, 2015. The system should be available for requesting again in early December. If you are MSU faculty, student or staff, please try Uborrow. Our community borrowers will not have access to interlibrary loan through MSU during that time. For more information, please read this MeLCat Server Migration FAQ. We apologize for the inconvenience.
Digital Collections: Michigan State Government Documents
Michigan State Government Documents is in searchable PDF format.
If you plan to print these documents and place them in a three-ring binder, please note that the margins are formatted for double-sided printing.
This work can also be
purchased as a bound volume on Amazon.com
.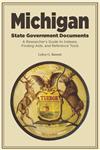 Title:
Michigan State Government Documents : A Researcher's Guide to Indexes, Finding Aids, and Reference Tools
Publisher:
East Lansing, Mich. : Michigan State University Libraries, 2013