Welcome to the Michigan State University Libraries - A Letter from the Director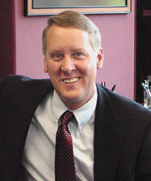 There is a good chance that you are reading this "message of welcome" from somewhere outside of the Main Library or one of its branches. That is terrific. In this digital age the MSU Libraries strive to provide as much information and as many resources as possible electronically, thereby reducing your need to physically come to a library facility.This direct access to materials from your dormitory room, office, apartment, home or elsewhere is an obvious advantage that we are pleased to provide.
At the same time the vast majority of information resources are still available only in print. Therefore, I invite you to expand the resources at your disposal by coming to the Library. This will not only provide you with direct access to over 4.5 million print volumes, it will also bring you into contact with a vast array of support services. Let me pose the following questions. Have you recently done a Google search that resulted in thousands of hits? If so did you simply explore the first one or two "hits" assuming that they must be the best options out of several thousands sites? A reference librarian can help you do better . . . MUCH BETTER.
Librarians have been searching electronic databases since the 1970s.They can train you to construct better search strategies, a skill that will benefit you for the rest of your life. So come to the Library. Check out the reference collection and improve your information gathering skills with reference assistance, enjoy the Friday Night Film or the Michigan Writers Series, and take a break at the CyberCafe. You'll be glad you did. We look forward to seeing you.
Clifford H. Haka
Director of Libraries