The Espresso Book Machine at Michigan State University Libraries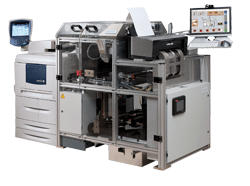 The Espresso Book Machine (EBM) is one of only a few of its kind in the world. Able to print a 200 page book in around fifteen minutes, publishing has now become even more accessible to Michigan State University faculty, students, staff and the public. The machine prints your pages and a full color cover, binds them together, and trims them all to size within a matter of minutes - library quality paperbacks printed from start to finish quickly.
Whether you are looking to print one of the over 7 million titles in our online database or a book that you've written, the Espresso Book Machine at the MSU Main Library will print it. A quick proof copy of your book or dissertation? You can be in and out the door in about 30 minutes — even faster if your files are already formatted and ready to print [see our Submission Guidelines(pdf) to see how to format your files]. See your book go from an electronic file to a printed copy in minutes.
With the Espresso Book Machine at Michigan State University, self-publishing has never been easier or more cost efficient.
Monday - Friday: 8 am - 8 pm
Saturday: 11 am - 5 pm
Sunday: noon – 8 pm
Print your own content (self-publishing)
By appointment only.
Contact the EBM Coordinator:
517.884.0827
ebm@mail.lib.msu.edu
Featured Books From MSU Past
The History of the Michigan Agricultural College by William J. Beal (From 1915) $28.00
MSU Manners: Advice Books From The Spartan Women's League (from the 1930s and 1950s) $9.00
Stop in to purchase a copy. See one of these MSU classics printed on demand in five minutes!