Visual Disability Technology - SARA reading machine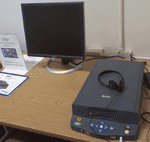 The SARA (Scanning and Reading Appliance) is designed to provide a simple solution to reading a wide variety of printed material. This includes books, mail, newspapers, magazines and more. SARA uses a one-touch scan-recognize-read control to start the process with the touch of a single button. While reading, SARA lets the patron adjust the speed, voice rate, and volume, and lets you fast forward or rewind with large easy to manage buttons.
SARA is also attached to a 19 inch LCD monitor so that low vision patrons can easily use the equipment to display the output from SARA in large easy to read text. The print type, color, text size and spacing can be changed by the user to easily fit their reading preferences. A large help button is also on the console to let users get an orientation of the features on the keypad after pressing Help and the button they want more informaiton about.
SARA Reading Machine | Kurzweil 1000 & 3000 Scanning & Reading software | Zoom Text Screen Enlarger | Jaws for Windows Screen Reader | Alva Braille Terminal ABT40 | Clear View 700 Magnifier