Visual Disability Technology - Optelec Clear View 700 Magnifier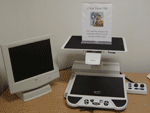 The Optelec's ClearView 700, a video magnifier, uses a color camera and offers the ability to split the display screen for use with both the video magnifier and the computer. However, in the Assistive Technology Center The Clear View is used primarily as a video magnifier. It's autofocus technology improves the ease of use, but its most important feature is the accessibility of its controls. Optelec improved the ergonomics of video magnifiers by putting the controls on the x-y table as part of the moveable tray where the material is viewed.
The two front corners of the x-y table serve as wrist rests, and are made of a dense cushioned rubber.The control panel is between the wrist rests. Push button controls on the x-y table set brightness, camera mode (black on white, inverse video, or true color), focus, and zoom (magnification range is 5.2x to 52x). In addition, there is a locator button that shines a red LED dot on the x-y table designed to help find the current location on the page.
Below the x-y table is a lever that can be set to four possible positions: locking the x-y table in a stationary position, giving the table full freedom, or limiting it to either side-to-side or back-and-forth movement. To operate the lever control, the user first presses it downward to disengage it.
SARA Reading Machine | Kurzweil 1000 & 3000 Scanning & Reading software | Zoom Text Screen Enlarger | Jaws for Windows Screen Reader | Alva Braille Terminal ABT40 | Clear View 700 Magnifier