Equipment in the ATC
The technology available in the Assistive Technology Center is designed to accommodate patrons with visual and hearing impairments in using the facilities of the library through the electronic resources we provide within the Center. We also have equipment that is designed to be used by patrons throughout the library to increase their mobility through the shelves, and provide better hearing for discussions, conferences and presentations with audio enhancement aids.
Visual Disablility Technology | Auditory Disability Technology | Mobility Aid Technology
Visual Disability Technology
The following list includes the equipment available in the Assistive Technology Center at the Main Library for patrons with visual disabilities. For detailed information about each listed item, click on the link titled "more".
Auditory Disability Technology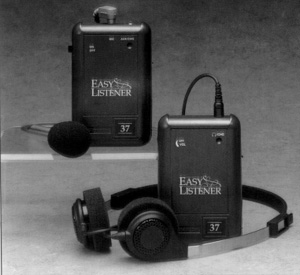 The Assistive Technology Center provides access to Library resources and services for patrons with auditory disabilities through the use of equipment to be used in the Main Library for classes, presentations, seminars and movies.
The Phonic Ear Easy Listener device will enable students and their instructors who use Library resources to clearly transmit conversations in many of our instruction rooms, and a table top microphone is available for use in conference rooms to enhance group discussion. Please see the staff at the Information Desk for information on checking out these materials from the Assistive Technology Center for use inside the Main Library.
Mobility Aid Technology

The Main Library has an Amigo motorized cart for patrons who experience difficulty in moving through the building. The Amigo was designed to assist people with walking difficulties, offering freedom, mobility, and a sense of security. The Libraries' Amigo Deluxe RD enables users to access materials in the stacks without difficulty. It features a control area which allows users to give fingertip commands for speed and direction.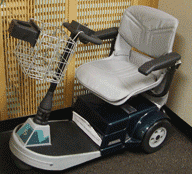 The Amigo is parked in the Lobby area near the Circulation Desk. Anyone wishing to use the Amigo can check it out for 2 hours per session. The cart must remain in the building. It is restricted to one operator, who must remain seated while the Amigo is in operation. Users must remove the start key and take it with them when they leave the cart unattended, as it is checked out in their name and they will be held financially responsible. A handout on policies will be given to each person requesting the Amigo.
The tires are non-marking and maintenance-free. The color is a metallic deep teal green (of course!). The vehicle offers a 34" turning radius, 360 degree seat rotation, a seat lock, and safety bumpers. The seat can be raised and lowered to accomodate different individual heights. The speed of the Amigo has been pre-set to a maximum forward speed of 1.5 mph, and 1.0 mph reverse speed.