Assistive Technology in the MSU Branches
The main library currently supports only the Business Library with assistive technology.
Color Video Magnification System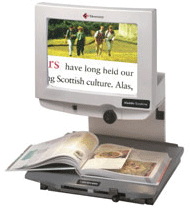 Our color video magnifier offers six settings for viewing printed material, allowing the user to choose which setting best suits his/her individual eye condition. These settings include high-contrast full color, full color photo mode, yellow text on blue background, green text on black background, amber text on a black background and white text on a black background. The white text on black (negative image) is ideal for reading text because there is less glare.
Four simple controls are all it takes to use all its features of thesystem: an On/Off Switch, a Magnification Lever, a Picture Control Selector, a Fine Focus Knob.